Parent and Child Nature Programs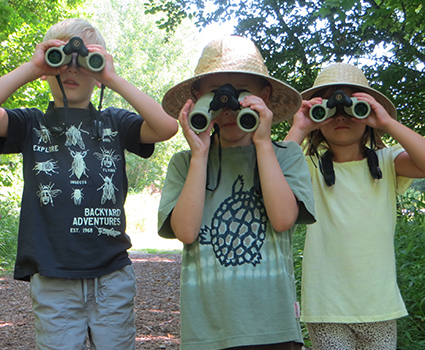 Knee High Naturalists Program
Parent - Child Program for Children Age 30 Months - 5 Years
Discover the wonderful and wild great outdoors with your little ones! Camp Y-Koda's fun naturalists will lead this interactive, parent-child program. Types of activities will vary by season and include hikes, hands-on explorations, crafts and games. Children must be accompanied by a responsible parent or adult.
The program meets from 9:30am - 10:30am on the dates listed below.
Pre-registration is required by Tuesday at 12 noon before each date.
Contact: Mackinzi Beaty mbeaty@sheboygancountyymca.org
Rabbits at Camp Y-Koda
Wednesday..... September 19, 2018
Come join the fun at camp as we learn about rabbits! We will take an interactive hike, play some games and make a craft. What a great way to kick off fall in the outdoors!
Birds at Maywood
Wednesday..... October 17, 2018
You are never too young to become a birder! Learn about 3 native birds to Wisconsin and enjoy the morning looking for the birds at Maywood! Come ready to get dirty as we dig for worms and explore the forest.
Deer at Maywood
Wednesday..... November 7, 2018
It's that time of year when the deer are on the move. Join us for our last fall hike, learn some interesting facts and look for deer still at the park. We will even have time to play some "reindeer" games! Please dress for the weather.
Knee High Naturalists Programs - Registration Form
---
Little Hands Nature Explorers
Ages 3 - 4 with Parent
This 6-week parent and child summer camp program at Maywood Environmental Park is specifically designed to introduce you and your child to our programs and nature-based philosophies. Learn about nature while learning about the importance of play in nature and how it leads to healthy child development. Our professional environmental education staff will lead nature activities and guide children's curiosity and wonder through inquiry. Dress to get messy! This program is 100% outdoors rain or shine, except in severe weather. the fee is for the parent and child.
Contact: Mackinzi Beaty mbeaty@sheboygancountyymca.org